Known for its 600 nautical miles of bright blue Caribbean waters, sun drenched beaches and friendly hospitality, it's not hard to see why the British Virgin Islands (BVI) is a firm favourite with sailors and holidaymakers. In 2022, we were delighted to take a few travel writers to explore this incredible archipelago of more than 60 unspoiled islands, staying at stunning resorts and hotels including Scrub Island and Oil Nut Bay, sailing onboard a Dream Yacht Worldwide catamaran and dining at some dreamy restaurants, including the newly reopened Saba Rock. Sitting proudly in the North Sound, the one-acre slice of paradise was destroyed in 2017 during Hurricane Irma. Following extensive refurbishment to build it back from the ground up, Saba Rock now boasts an open-air restaurant serving delicious local cuisine and nautical inspired sunset bar, along with rooms and water sports facilities.
We've rounded up our top 'not-to-be-missed' experiences from our time in the BVI: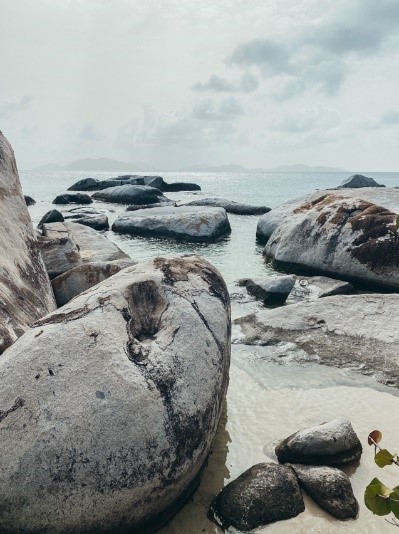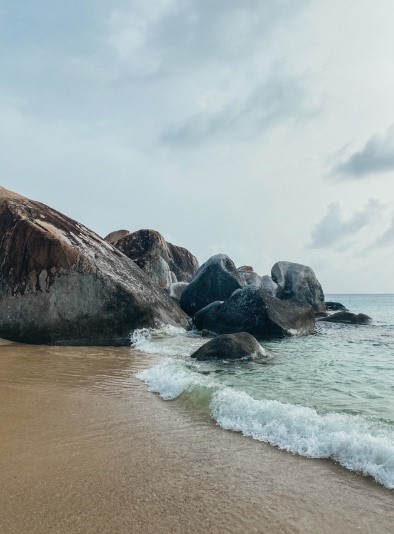 1. Exploring The Baths at Virgin Gorda
Bouncing across the waves in one of Oil Nut Bay's private speedboats we swept towards The Baths, at the tip of Virgin Gorda. One of the BVIs most popular spots, The Baths National Park is a collection of impressive granite boulders, some up to 40ft in diameter, offering incredible swimming and snorkelling and a beautiful white sand beach.
Not ones to take the easy route via land, we dropped anchor about 50m from the shoreline and snorkelled our way to The Baths, squeezing between imposing rock formations as we went. The sheer size of the boulders was breathtaking as we trapezed our way through the National Park, crawling under, sliding down and clambering across the huge formations.
On our way back to the speedboat, we were ecstatic to swim alongside a group of turtles, a flurry of brightly coloured fish and even a couple of inquisitive eagle rays. As we sailed through the North Sound (otherwise known as 'Billionaire's Playground'), we spotted the new estates being built on Moskito Island – and loved seeing yachtie haven's Bitter End Yacht Club and Saba Rock back in action following the devastation of Hurricane Irma in 2017 – the BVIs is truly bouncing back.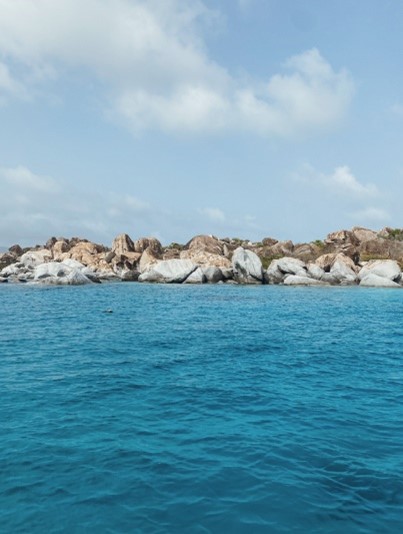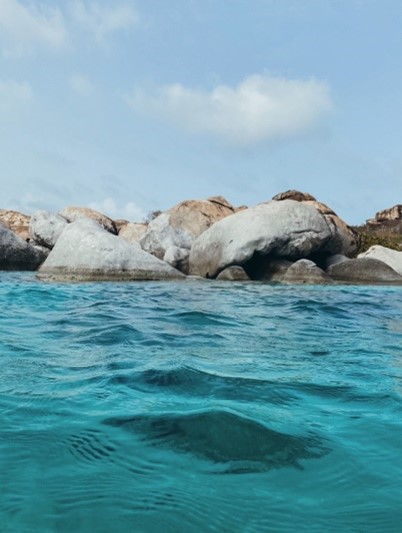 2. Painkiller Paddle
You've not had the full BVI experience unless you've visited Jost Van Dyke's much-loved Soggy Dollar Bar – and downed one of their famous Painkiller cocktails– a secret recipe made with dark rum, coconut cream, pineapple and orange juice, topped with fresh nutmeg.  Founded in 1970, the bar was only accessible by boat, with no dock on the beach, so gets its name from the wet dollar notes brought in by sailors who swam ashore in desperate need of a drink. In keeping with tradition, we dived off our Dream Yacht Worldwide catamaran and into the warm waters of White Bay, dollar bills tucked into our swimsuits, and spent the afternoon lazing on the soft sand of White Bay Beach, Painkillers in hand.  It's not hard to see why people have been doing just that for 53 years….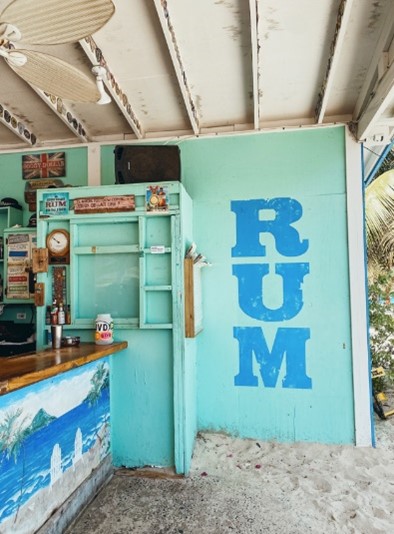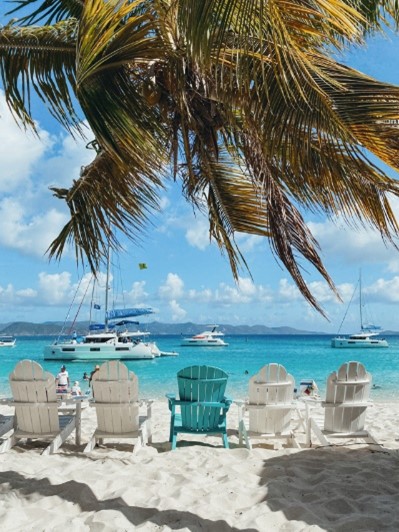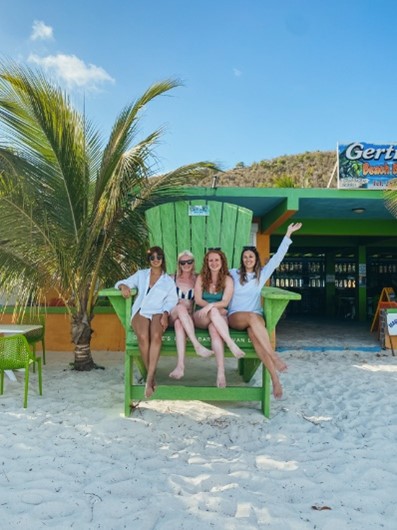 3. Lunch on a private island
Whilst staying at Scrub Island, we were treated to an unforgettable lunch on Marina Cay, a tiny private island which has recently been acquired by the team. After a short sail, we were greeted by the island's smiling team and a tray of Painkillers (you can never have too many rum cocktails in the BVI), before being escorted down to the deserted beach where they'd set up four deck chairs and a table for lunch in the surf. We'll never forget being served crab salad and exquisite grilled lobster whilst the surf lapped at our feet. This truly felt like paradise!