Vermelho – Melides, Portugal
Christian Louboutin's first hotel – open April 2023
This spring, Marugal adds a new hotel to its portfolio of individual luxury hotels (Cap Rocat, Mallorca; Totem, Madrid, amongst others) – with Hotel Vermelho, a boutique home-away-from-home imagined and conceived by the iconic fashion designer Christian Louboutin.  With a passion for artisanship and artistic collaboration, Louboutin was drawn to Melides, home to a flourishing creative community, where artists, painters, architects, and designers find inspiration in the gentle pace of life on the west coast of Portugal below Lisbon.  He spends time there every year, to draw inspiration for his collections.  For the hotel, he has personally sourced the furniture and collected the art and ceramics – all the while incorporating and celebrating Portuguese talent and traditions. A restaurant, bar and landscaped garden by Louis Benech, complete this magical place – which will, says Louboutin, be "an extension of how my friends and I live in Portugal."
MasQi – The Energy House
New rooms for the award-winning retreat in Southern Spain
Reopening for the 2023 season following the addition of 2 new suites, MasQi is a true retreat in the hills of the Sierra Mariola Natural Park in southern Spain. Guests can expect personalised programmes that nurture mind and body through yoga and movement, energy healing, Ayurvedic treatments, sound therapy, walks, wild swimming, one-to-one life coaching sessions and workshops, cookery classes and gourmet macrobiotic cuisine. All of this is housed in a 10-bedroom country house with rooms and suites that offer sanctuary and comfort. MasQi – literally, "more energy", is a transformative place to reconnect with self and soul.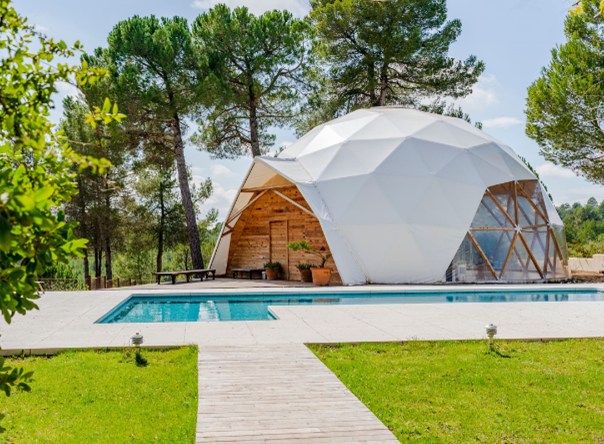 Secret Atlas – expedition micro cruises to the polar regions…
New vessel – Vikingfjord – launches July 2023
In July, 2023 Secret Atlas will launch a new vessel – MV Vikingfjord, with new tours to Svalbard – allowing guests to explore Svalbard on the most environmentally friendly small ship in the polar regions with a 95% reduction in NOX emissions. In 2024 new tours will be available to Greenland and Antarctica with destinations such as the Canadian Arctic on the horizon.   Founded in 2019, by two passionate explorers, Secret Atlas was created to take curious and conscious travellers on the expedition micro cruises to the polar regions in an intimate way, with the lowest impact. Setting out to disrupt the mass expedition market that's overcrowding the fragile wildernesses of the Arctic and Antarctica, Secret Atlas have pioneered a new approach, offering expedition micro cruises of up to 12 guests on some of the smallest ships in the polar regions, with rockstar guides of the photography and exploration world. Offering a range of experiences from expedition micro cruises and photography expeditions to fully personalised private charters, each Secret Atlas adventure has a main purpose – to offer their guests genuine intrepid journeys, where few have gone before, and to appreciate and truly understand the polar environments. Key destinations include the Svalbard archipelago, Greenland, South Georgia and Antarctica and each flexible exploration ranges from 7-15 days.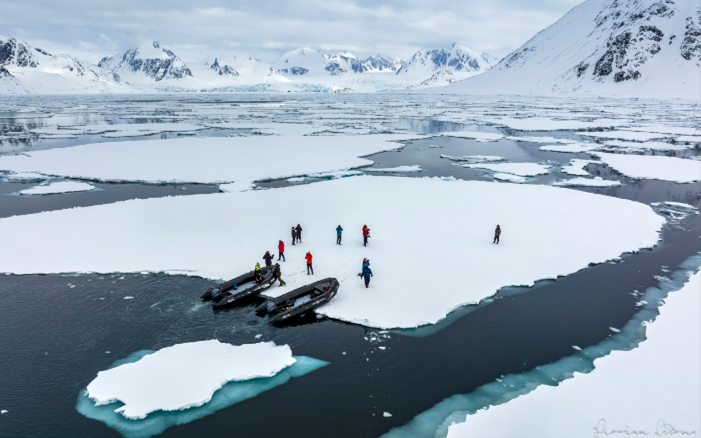 Mandarin Oriental Mayfair
Opening on London's Hanover Square in Spring 2023
Mandarin Oriental Hotel Group is expanding its presence in the capital, with the opening of Mandarin Oriental Mayfair, London in spring 2023. Sitting on historic Hanover Square, in the heart of London's most stylish neighbourhood, where fashion, media, art, and business intersect, the new hotel is a discreet, sleek and intimate sister to the award-winning Mandarin Oriental Hyde Park. Designed by internationally renowned Rogers Stirk Harbour + Partners with the interiors of the public spaces by Tokyo-based studio Curiosity and the guest bedrooms and suites by Studio Indigo, the hotel have 50 guestrooms and 77 private residences, as well as the first namesake Akira Back restaurant in the UK from Michelin Star award winning Chef Akira Back, as well as his 'ABar Lounge' concept and ABar rooftop bar.  There will also be an urban spa, focussed on renewal and recalibration.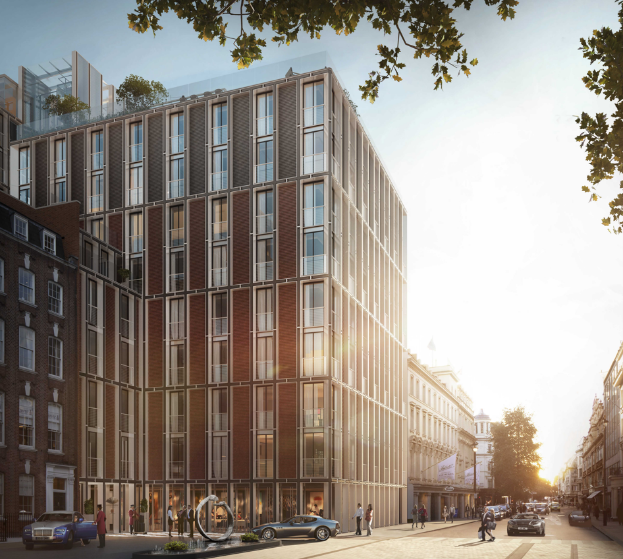 Mandarin Oriental, Costa Navarino
Opening Summer 2023
Mandarin Oriental, Costa Navarino, opens Summer 2023 and is the first Greek hotel for the Group. In the southwest Peloponnese, Costa Navarino is a sustainably driven destination set on a landscaped hillside on a beautiful beachfront overlooking one of the most unspoiled landscapes in the Mediterranean. The hotel will offer a back-to-nature experience with mesmerising views of the surrounding countryside, the azure sea, and dramatic sunsets. With 99 elegant, light-filled suites and earth-sheltered villas with private pools and spacious terraces, the resort will have five restaurants and bars, redefining authentic Greek traditions and honouring local culture – while also providing a wide variety of original flavours from international cuisines. The Spa at Mandarin Oriental, Costa Navarino is a rejuvenating sanctuary offering wellbeing and beauty treatments inspired by the Group's traditional rituals from the Far East and the abundant flora of Greece. In addition to a variety of private treatment rooms, heat and water experiences, the Spa features a large swimming pool that flows indoors to outdoors with views of the breath-taking bay and the glorious sunsets.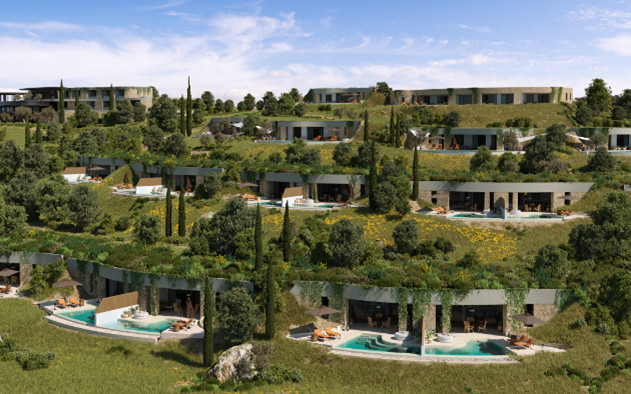 Mandarin Oriental opens in Vietnam
Mandarin Oriental, Saigon – opening 2023
The Group's first hotel in Vietnam – Mandarin Oriental, Saigon – is set to open in the second half of 2023 – as an integral part of Union Square Saigon, a commercial building in the heart of Ho Chi Minh City. The hotel will be in pole position on the upper floors of this outstanding mixed-use complex, which will also house a variety of international luxury retail brands and exciting restaurants and bars. With 227 guestrooms and suites, six restaurants and bars, a range of meeting and banqueting spaces, a fitness centre, a Spa at Mandarin Oriental and an outdoor swimming pool, Mandarin Oriental, Saigon is perfect placed, next to the Saigon Opera House and the People's Committee Building – and within walking distance of most of the key landmarks in the city. Its position is ideal for guests wishing to enjoy the city's vibrant dining and shopping areas.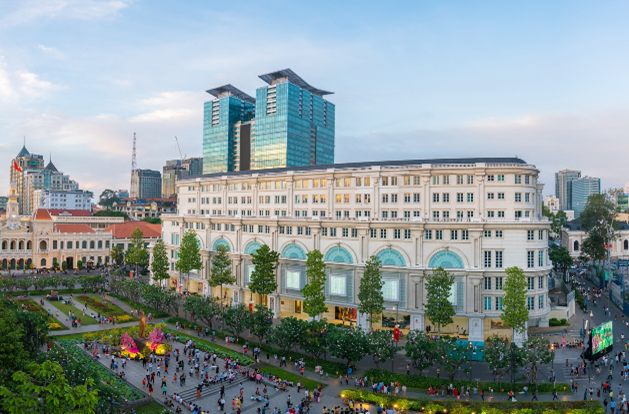 El Fuerte Marbella – Málaga, Spain
Opening June 2023, a much-loved local landmark is reborn
El Fuerte Marbella, a family-owned hotel in the heart of Marbella town, will re-open following an extensive transformation, which will see take up its rightful position as the 5* luxury hotel in Marbella – where over 60 years of experience, history and the fun and glamour of the Costa del Sol meet true hospitality, fine food and authentic experiences of the 'real' Marbella.    Right on the seafront yet close to the cobbled, orange tree lined streets of the Old Town, the hotel's location is unbeatable. Making its mark on Marbella, the design, headed by renowned Jaime Beriestain Studio, is contemporary and sleek, taking this much-loved destination in a new direction whilst retaining the Andalusian sense of place and spirit of hedonism.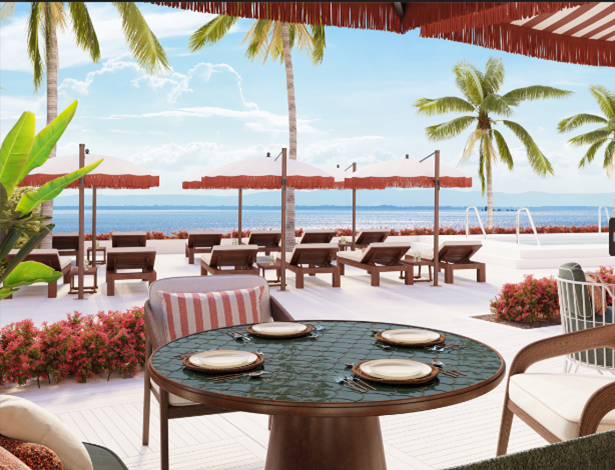 andBeyond Punakha River Lodge – Punakha, Bhutan
andBeyond's first lodge in Asia, opening in 2023
Luxury travel company andBeyond is set to launch Punakha River Lodge, situated on the banks of the Mo Chu River, boasting uninterrupted views of the Himalayas. Warm and soulful, the overall feeling is a tremendous sense of peace and wellbeing, combined with a genuine sense of place inviting guests to explore the richness of the landscape. The lodge draws inspiration from its natural surroundings and combines traditional Bhutanese style with a unique twist. In keeping with andBeyond's brand values, Punakha River Lodge has been imbued with a sense of authenticity, offering exclusive experiences including paddy field lunches, surprise drinks stops and picnic lunches with unique views of the river.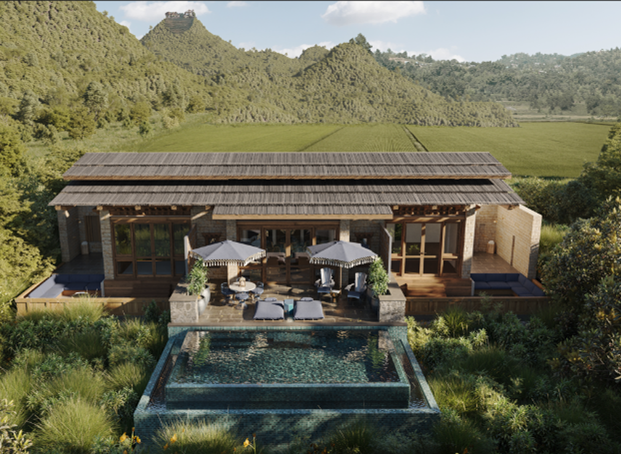 Canfranc Estación – Huesca, Spain
Just opened, a train station transformed into a hotel
Canfranc Estación will take guests on a unique journey through the Aragonese Pyrenees as Barceló Hotel Group has transformed this landmark train station into a Royal Hideaway Hotel, set within the dramatic landscape of the mountains.  Originally built in 1928, Canfranc quickly became a cultural emblem of the region and Europe. As the grand gateway to the Pyrenees, the station buzzed with the hustle and bustle of excited passengers and this energy will emanate throughout the hotel. Nodding to the history of the building, Canfranc Estación is home to 104 rooms which creatively blend contemporary art deco features with design inspired by Aragon culture. The colour palette and fabrics echo the rich textures and deep shades of the area's traditional costumes but with a modern elegance. Many of the rooms have panoramic views of the mountains.